Saudi Founding Day
Enjoy our exclusive Offers " Complete health checkup package" included (22 scan)

Just for 122 riyals, instead of 2684 riyals

CBC

ALT

AST

UREA

Creatinine

Uric Acid

Total Cholesterol

LDL

HDL

 Triglycerides 

اCa

Na

K

Glucose 

HbA1C  

 Albumin 

TSH

 Iron 

Ferritin 

Vitamin D

Vitamin B12

ALP
You don't want to miss this offer, it's for limited time
Food Print Package
Only 999 riyals instead of 1600 riyals.

Food print analysis, which helps to detect 220 food
types that may cause you many chronic symptoms:
Such as digestive and skin problems, chronic headaches, fatigue and an increase
Weight, stability and many other symptoms..
If you feel some of them, come to perform the necessary examinations, and get
a simple and easy summary report that contains accurate results for all foods
tested, and get more than 37% discount.
vitamins and minerals package
Only 999 instead of 1400 riyals

Vitamins are among the important substances in building a complete, perfect and healthy body.
so, any imbalance, increase or decrease, will lead to various diseases, including: frequent infections, osteoporosis, anemia, and others.
We offered you vitamins and minerals package, which includes the following checks:
vitamin D
Vitamin A
vitamin B12
vitamin D3
Vitamin C
vitamin B1
Vitamin B6
Vitamin B2
Calcium assay
Sodium assay
Chloride assay
K potassium test
Magnesium assay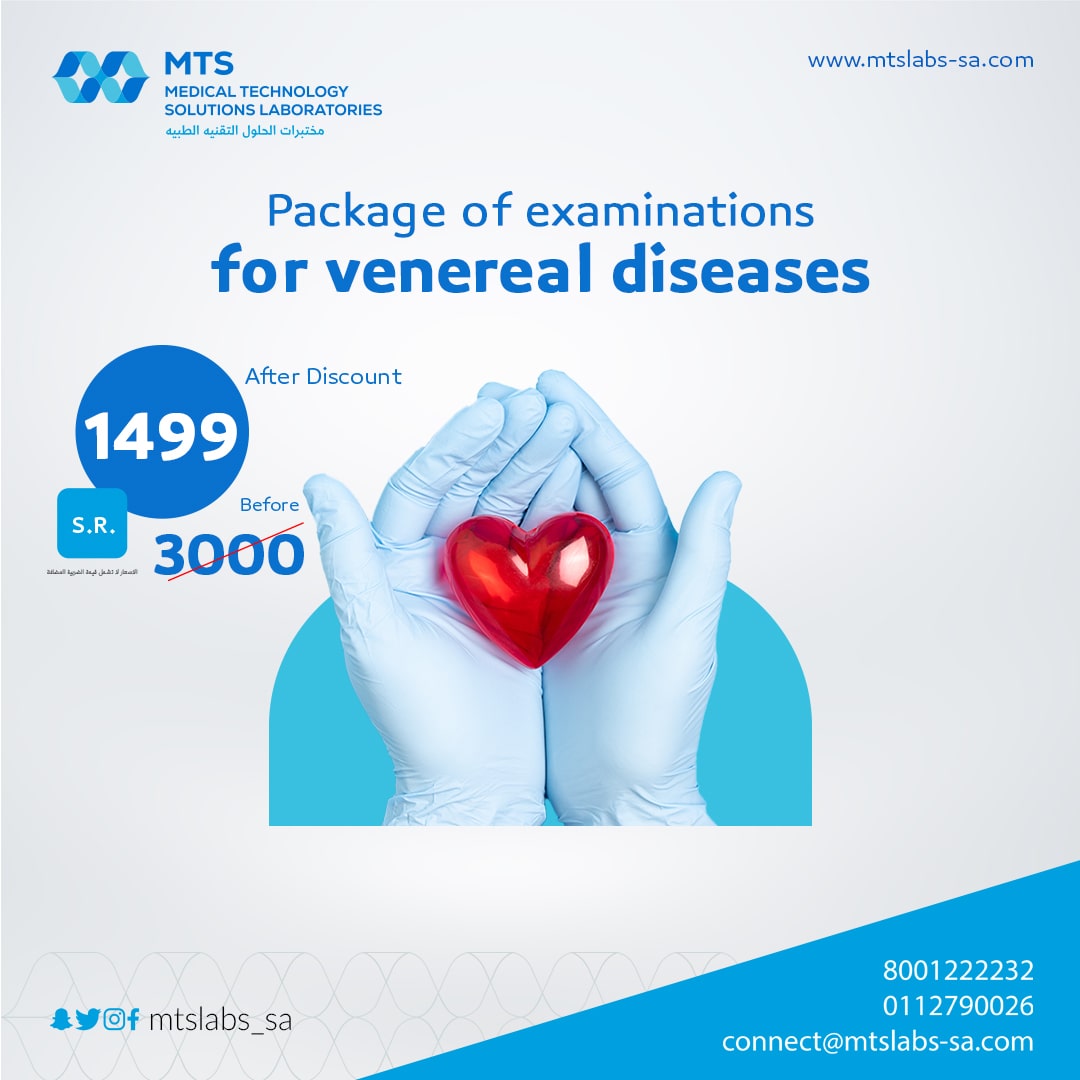 Package of examinations for venereal diseases:

Only 1499 instead of 3000 riyals..
As we care about your health
At Medical Technology Solutions Laboratories, we offer you a package of venereal disease examinations, which
contains more than 13 analyzes at a special price as usual
Some may suffer from a sexually transmitted disease and not realize it until late, so we are
very keen on early detection of venereal diseases before they spread to facilitate their spread
disposal, using PCR technology, which gives accurate results with high efficiency.